Invisible Action of Force
Get a lot more than you asked for in a way that you never expected.
Welcome to Green Chi Acupuncture
Elnaz is a registered acupuncturist graduated from PCU college of Holistic Medicine in Vancouver and is a member of ATCMA.
She is very passionate about the holistic methods of treatment. This passion motivated her to move on from a Microbiologist to getting to studying the human body and mind, and the connection between them in order to find a better way of leading a healthy life. Learning about Traditional Chinese Medicine opened an ocean for Elnaz to swim and guide others to this beautiful wisdom of art that we inherit over 3000 years. She enjoys to sit and get to know about your health condition to help you live a happier and more enjoyable life by bring your body back to its normal balance with treating the root of the cause and achieve realistic health goals with acupuncture needle techniques, cupping, hijama, moxibustion and tuina massage. Elnaz practices balance method acupuncture and distal needling for years.
She successfully helped many clients in private and community style of practice, visiting over 20 patients per day during past 2 years. Elnaz believes in working with individuals to achieve and maintain optimal health and wellness
Acupuncture means insertion of fine sterile needle with the thickness of about 0.20 mm at specific areas in the body to activate the flow of the vital energy (Q) and blood, ease the nerve systems and balance hormonal and lymph.
We specialize in distal acupuncture techniques at Green Chi Acupuncture. This method enhances your inner healer and eases the pain without stimulating the inflamed area.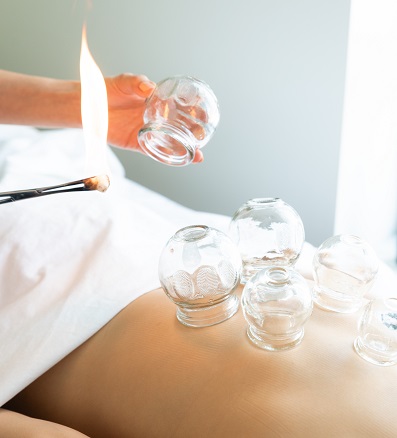 Dry cupping is applying silicon or glass cup on the body and creating a suction in order to have a better blood circulation to ease the muscle tension and relax the body. Some people like it even better than massage. Cupping is detoxing by bringing blood to the surface of the skin. Also cupping on the back helps activate the function of organs, especially for lungs. 
Wet cupping or Hijamma is a healing technique that sucks bad blood out at certain areas by poking your skin with a diabetic lancet 0.17G.
Call us today with your ICBC claim number
Everything you need to feel healthy and beautiful
Holistic Medicine Helps with Your Overall Health!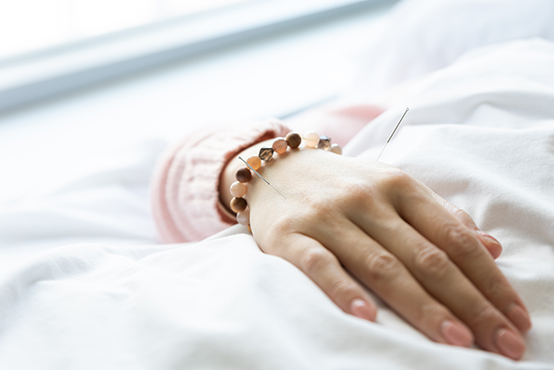 Elnaz cares and listens, she also relates to experiences and provides valuable information. Services I used: Hijama and Acupuncture Although I cannot attest that one thing or another resolved my problems, but in my experience my shoulder muscle/joint pain improved greatly following a diet which consists of meat and reducing inflammation causing agricultural produce after receiving those services from Elnaz. Thank you.
So far, I have had 3 sessions with Elnaz. My first experience was acupuncture and cupping. When I spoke about my reasons for wanting to have work done, I could not help but cry from the emotional weight I had been carrying for some time before then. I felt so safe and comfortable opening up to her about the things that had been going on that brought me to her. Working with the acupuncture needles for the first time was absolutely magical. Within 5 minutes of having the needles in place, I started to cry. It felt like the emotions my body was holding onto were being released. I felt at peace. Along with the emotional healing I was searching for, my body also has some areas of chronic pain that I wanted to address. My wrist has been in pain for many years. Within 10 minutes of Elnaz placing the acupuncture needles, I felt a complete release of pain in this area. Although it will take some time to work through this injury, the pain reduction in that short amount of time was absolutely shocking. Elnaz has been consistent with using cupping as a technique to release pain in my shoulders and neck as well. My range of motion has increased and head, neck & shoulder tension has reduced. I will continue to use cupping as a way to alleviate muscle tension. Lastly, Elnaz has used a healing technique called EFT. It is non-invasive and extremely empowering. I was asked to write down 5 things about my current life situation that i hated or that bothered me & 5 things about the same situation that I loved and were positive before arriving to my upcoming visit. She guided me through a gentle tapping routine spread from my hands, head, chest, and arms all whilst verbalizing over and over each of the 5 different points I had come up with. First we worked through the negative, then reset and worked through the positive. I cried during both of them as a sign my emotional ties were releasing from the situation I was in. I was shocked, and my energy was balanced within a few days. I felt stronger, and able to recover from any lingering trauma. I am excited to continue working with Elnaz because within only 3 visits, I have seen incredible and some instantaneous results!
Wondering experience. Higley recommend.
Mahmonir Madanizadeh
2023-03-24
Elnaz is responsible and kind, I had a bad headache after 2 sessions treat my head! I highly recommend her.🌹🌹🌹
I'm so glad after 1 month I got my recovery in my neck and back area. I could neither walk or eat or sleep because of the pain for 3 months, she recognized what was the problem. After the two sessions, I saw the result in my body because she works on the whole system of your body, and she can reduce and eliminate several problems and pains together. I had this issue for 3 months so I started Physiotherapy for 3 sessions, but after that my pain got worse. I was crying for hours because nothing was working for my pain with this issue. Right now, my feeling is really better than last month and, I appreciate your help Elnaz joon.
Since the first session with Elnaz, I noticed about how my body is reacting positively to the treatment!( I tried acupuncture before, not even close)! High level of energy!enhanced sleep quality, blood circulation, hormonal balanced, vanishing under eyes dark circle are the results I can see so far. What I appreciate about Elnaz is her wholistic view and here effective listening! In the first session she spent time to just listen what I had to tell her! And came up with a plan accordingly.
I had lots of pain and during the treatment I felt getting much better. I recommend this clinic to everyone.
Nasim Boustani
2022-12-17
Elnaz has a warm and caring personality with depth of knowledge in multiple disciplines which she combines seamlessly in her practice. Wether you have physical ailments and pain or mental disturbances, you will find great relief after your treatment. Highly recommended.
ebrahim vahedi
2022-12-14
من برای برطرف کردن درد کمر و شانه پیش خانم میری رفتم و ایشون با دقتی که داشتن تونستن توی دو جلسه تا حد قابل قبولی به برطرف شدن دردها کمک کنن و البته این دوره درمان همچنان داره.کنار طب سوزنی،رفتار دوستانه خانم میری آدم رو برای ادامه دوره درمان تشویق میکنه
deptos sol y vino Mendoza
2022-12-05
Elnaz Is great! 100% recommended! She explains the meaning of everything and makes you understand how everything is connected! I could notice the difference as soon I finished my first session (I had back pain)
Frequently Asked Questions
There is a feeling of suction but it does not hurt. 
The suction may aggravate the muscle pain for a day but it ease off the day after.
Cupping marks last 3-7 days based on the severity of the blockage of blood of the area  we are treating.  
Hijama (Wet Cupping) or blood letting is a treatment metod to move blood in the body. 
Many disease comes from the blockage of blood in the body. 
With blood letting or Hijama we treat serious vain, chronic knee and lower back pain, high blood pressure, migraine headache, TMJ, Depression, insomnia and much more.
Needles we are using for facial is much much thinner than body needles. 
You are not going to even feel the needles. 
There is also no bruise.